Building a community website
ELECTROMAKER.IO
Electromaker.io is an online platform that allows people from all over the globe to share their electronic hardware projects with the rapidly expanding maker community. The mission is to unite the global maker community so that makers worldwide can learn, share and collaborate on exciting hardware projects. Our brief was to create a modern brand which appeals to the maker community.
The requirement was to develop a powerful 'community' website and promote it to the worldwide Maker Community through an innovative digital marketing strategy.
270,000
Page views
110,000
Organic sessions per month
32,000
Facebook likes
On launch of the brand there were more than 16,000 sessions on the new website. A competition was created with $5,000 worth of prizes to give away. The marketing strategy looked at a number of different platforms to help launch the website but the most effective was organic search and social media channels such as Facebook and Reddit.
The Electromaker Facebook page now has more than 32,000 likes but more importantly each update gets regular engagement. During the first 6 month period from launch the website has seen over 200,000 sessions and around 270,000 page views. The site is now averaging 110,000 organic sessions per month.
Average session durations have been continuously improved. They are now 221.19% higher than compared with the first launch. Bounce rate has improved by 80.91%. Since the launch we have been carrying out regular user research. With the installation of Google Analytics and session replay software, we have been able to gain valuable insight to how users are browsing and interacting with the site. We have also sent out surveys from time to time to get direct feedback from our user base.
"
"Launching a new community focused online platform for the electronics industry was always going to be a challenge. A freshly branded, fully functional website coupled with a calculated digital strategy all played a vital role in the success of Electromaker.io. As the Electromaker community has grown so has its offerings. We now publish news, review and tutorial articles in both written and video format to an engaged audience of over 100,000 people every month."
Richard Elliot, Editor in Chief of Electromaker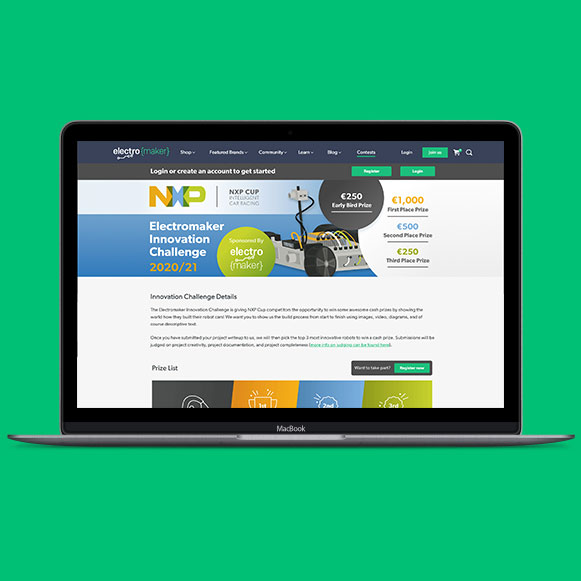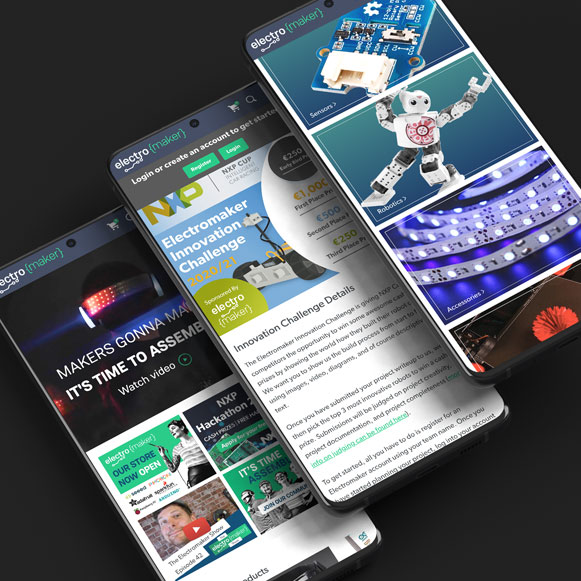 "
"Over the past 18 months we have worked with Electromaker on an array of digital projects from ad campaigns to UX reviews, video production, customer research, and more recently the launch of their ecommerce store… just to name a few! One of the best things about Electromaker is that we have so much creative licence; the brand is very fluid and this empowers us to push the boundaries and keep things fresh, which is just what we need in this fast-evolving digital world.

Everything we do is user focussed, we constantly monitor user behaviours and improve the site based on our findings, we have seen uplift in conversions off the back of these data-driven design decisions, which is really encouraging. Electromaker is rich with content from projects, tutorials, guest speakers and competitions, pulling together a fantastic and passionate community of makers!"
Francesca Griffiths, Head of Digital Experience