Powerful B2B Marketing Tools 2021
February 19, 2021 BY EPM Agency
As a B2B marketer, you need the best marketing tools for the job no matter the channel. But there are always new platforms and solutions at your disposal, so which one is right for you?
By leveraging our recommendations of the top B2B marketing tools, you'll be able to lead smarter, more efficient projects that drive results for your business using the latest tech.
Want more tools to level up your digital marketing arsenal? Why not check out our top social media marketing tools for 2021?
Standard subscription starts at $99 p/m
Moz is a great online marketing tool for helping to structure your content marketing SEO. Moz has different tools including a free domain analysis, reposts on the "weather patterns" of the Google algorithm, keyword explorer which is perfect for choosing the perfect words and phrases to increase your visibility online. One of the most useful features is the 'My Online Presence' tool, which uses your location and local directories and search engines to show how you can improve your discoverability online; a very helpful tool if you have a smaller business that focuses on local work.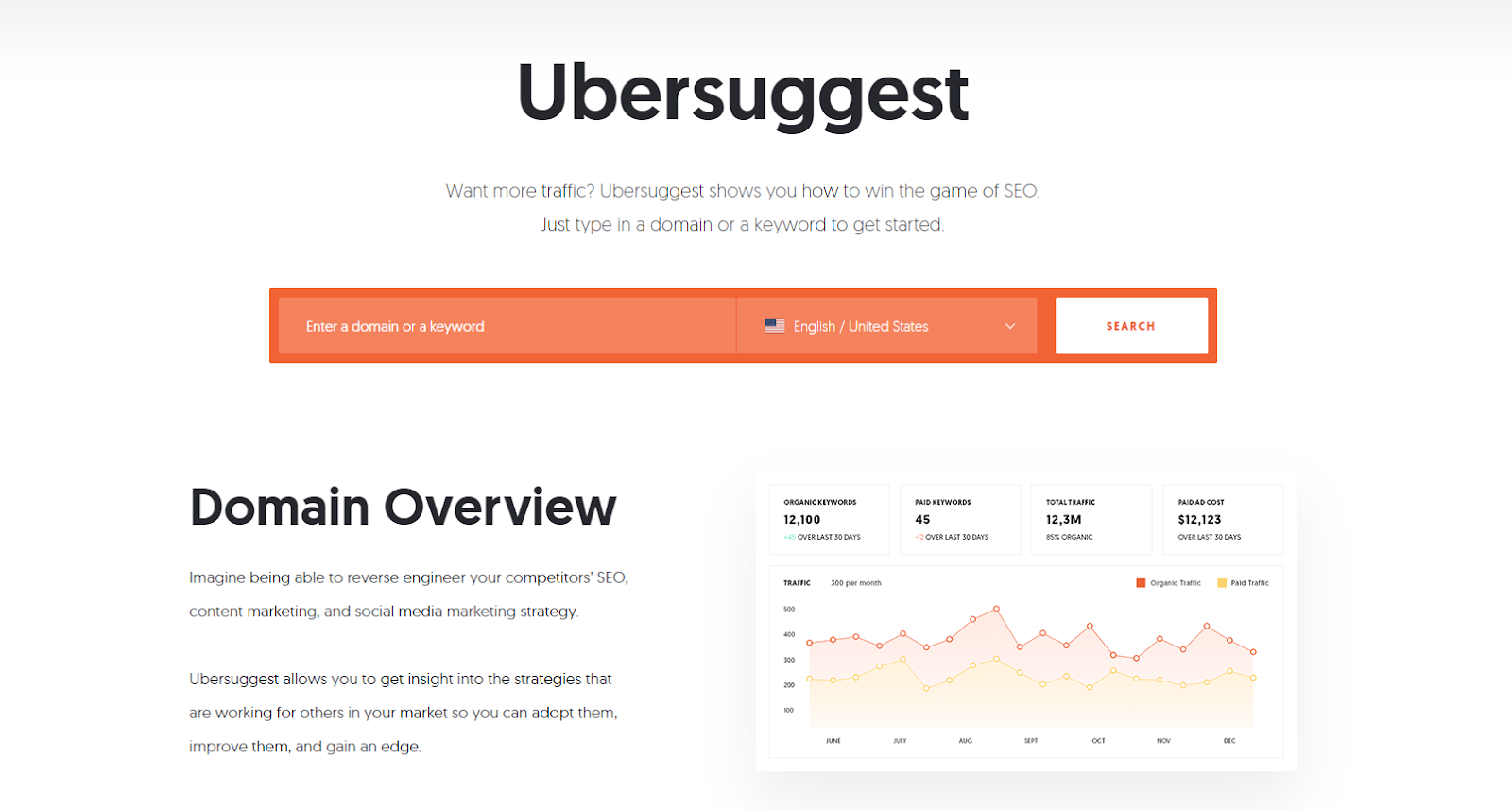 Subscriptions start from £29 p/m but some features are free
Neil Patel is the founder of a digital marketing agency, NPDigital, which helps the likes of Amazon to grow their online revenue. With the ubersuggest tool on the Neil Patel website you can analyse your domain and keywords, see insights into different marketing strategies, reverse engineer your competitor's SEO and content marketing, and use the information to get ahead. The tool can also offer keyword suggestions and show their ranking on the web, give you content ideas and also show you extremely useful backlinking data. All in turn improving your web ranking and online presence.
Resources are free, course subscription starts from £25 p/m
One of the best online marketing tools in 2021 is Target Internet, a fantastic site that offers a tonne of different resources for free. You can find resources from Content Marketing, Ecommerce, SEO to Analytics and Data information. With each category having pages of different easy to consume blog posts, they also offer online courses as well as a weekly Digital Marketing Podcast, infographics, blogs and reports. There's so much free information to utilise and improve your B2B marketing!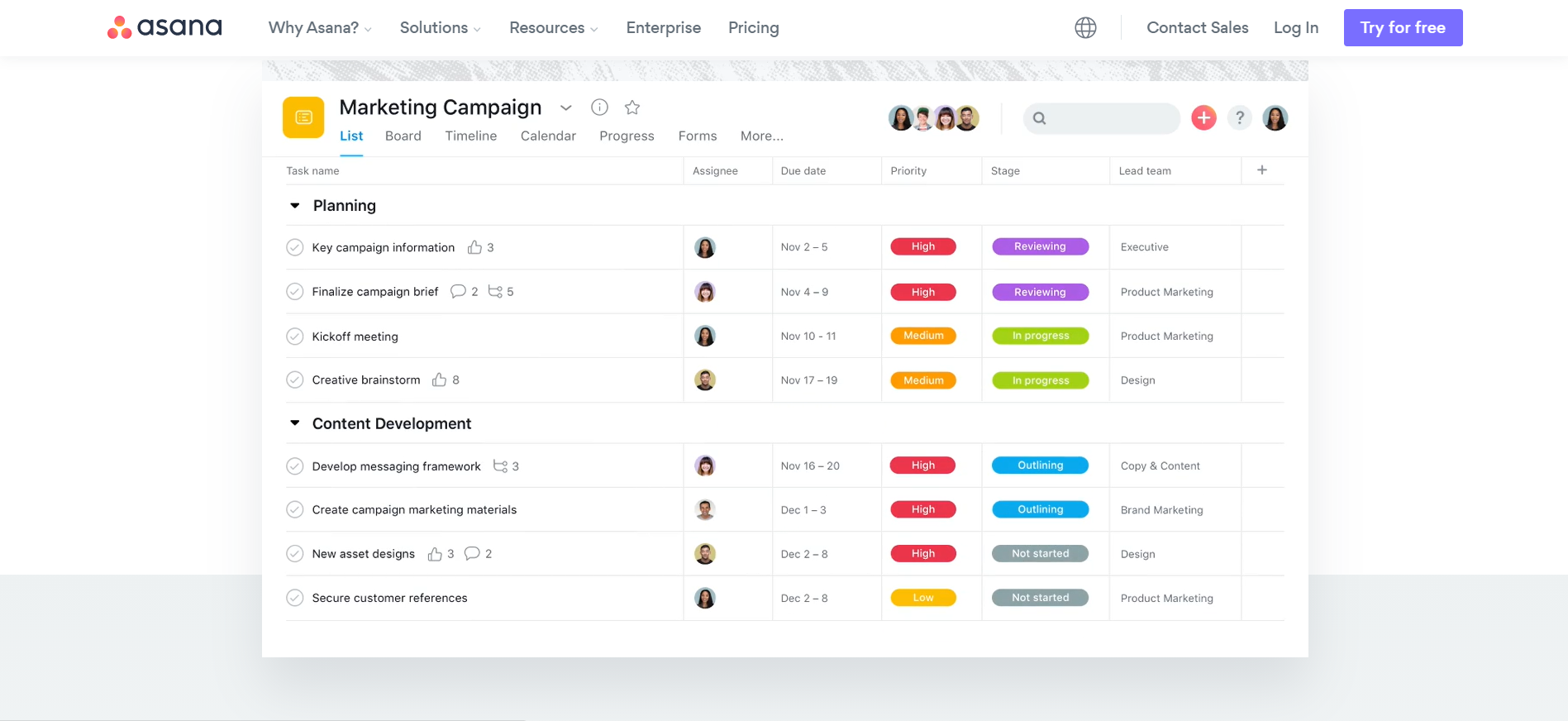 Free, with subscriptions from £9.49 per seat pm
Though it's not specific to marketing, Asana is a fantastic B2B project management tool and collaboration platform and the perfect addition to any marketing team. Presented in a highly visual, slick interface, the ability to add users and assign tasks provides an effortless way to track campaigns and projects. By viewing tasks in modes such as lists, calendar and boards, users can choose the project structure that suits their working methods best. Dashboard keeps managers afloat of progress, and additional premium features such as timelines provides easy-to-access reporting.
From £40 a month per user for Salesforce Engage add-on
A brilliant B2B marketing automation tool at its core for existing Salesforce users, Pardot also provides analytics to help align marketing and sales teams. Its Engagement Studio enables customer journeys to be created and automate their progress through the funnel based on their interactions with set target events. Pardot also has an integrated B2B email marketing system that provides many of the typical email marketing features you'd expect out of the box, as well as customised lead capture forms. What's most interesting about Pardot however, is its AI functions, which uses information collected about prospects over time to provide a 'lead score' and show which prospects are more likely to become customers and a 'behavior' score that shows when they're ready to purchase.
Free
By using Google data to track popular topics in your industry, you'll be able to monitor trending issues and capitalise on content marketing creation that is timely and directly relates to your audience. You can search by country, duration, category and platform to follow the popularity of a topic over time and even customise the date ranges for an in-depth view of a topic in one particular period. Impressively the data goes as far back as 2004
Free, with subscriptions from £16.50 per seat pm for 10,000 emails
There are plenty of email marketing tools out there, but very few have the same amount of free features that are included with Sendinblue right off the bat. With unlimited contact storage, audience segmentation, drag-and-drop email designer and marketing automation workflows available in the free plan, most small and mid-sized businesses will find plenty of use without having to pay a single penny. For bigger enterprises, Sendinblue is ultimately a cheaper platform for bulk email sends with a built-in CRM and a variety of advanced features that are easy to utilise for your B2B email marketing needs.
Free, with subscriptions from $11.66 pm
Now that you have a gamut of B2B marketing tools at your disposal, you'll want to ensure that all copy reads grammatically correct and that there haven't been any tiny spelling mistakes overlooked. Microsoft Word and Google Docs have a great basic spell-checker, but they can miss out on the nuances of using the correct punctuation, as well as misspelt words here and there. Enter Grammarly, a free add-on that can check your spelling and grammar in real-time and integrate with your word processor, emails and browser to ensure that your writing is always in tip-top shape, above and beyond the capabilities of Word and Google Docs.
What are the best B2B marketing tools that you use? Let us know on our social channels!