Behind The Screen Insights: David Jones, Lead 3D Artist
February 8, 2021 BY EPM Agency
With 19 years of 3D creative experience across architecture, medical, manufacturing, energy and defence sectors to name a few, David Jones joined EPM in 2020 in the midst of a pandemic. He speaks to us about his career, training artists across the country, and what it's been like working remotely as a 3D artist.
Hi David. What inspired you to go into 3D? Let's start at the beginning.
I've been interested in technology from the beginning, so I used to take apart electronics and see how they work. I like knowing how things work and how if you push one button, that leads to a series of chains of events. I even took apart a TV once! Generally I was able to put them back together, and there were a couple of instances where I couldn't put them back to how they were originally! That's the only way you can learn though. I used to have a Commodore 64 that broke, and seeing as it was broken I decided to take it apart and see if I can fix it.
I was more into science at school and excelled in that, but I also did well with art. It was quite difficult because back in those days, there was no mixture of the two. Everything was very separate. 3D is a mixture of science and art and I did recognise that could be an avenue to take, but there was no route on how to get there - in the mid-late 90s, there weren't any specific courses for that kind of thing specifically. I took art and design at college, doing more of the traditional work - fine art, culture, that kind of thing. I liked graphic design as it was more along the computer side of things.
Did you go to uni? What did you study?
I then studied graphic design at uni for a few months, but the course I was studying wasn't doing it for me as it was more traditional while everything at that time was heading towards the computer so I was aware the course was lagging a bit. So I quit that course and went to study Multimedia, which is where I picked up the 3D side.
What did you do after uni? Where was your first job in your field?
I had a friend who attended the course, and he started a 3D company straight off the bat after as it was an emerging industry and there was nothing around in Bournemouth at the time. I joined a bit later and we did a couple of years of visualisations for property developers. Back in those days, you used to have artist's sketches to see how a property would look, and they'd be put in magazines to encourage sales. We created computer-generated visualisations for the properties instead.
What did you do next?
I then left and joined a company that sold software to engineers and architects. I was in a department that dealt with CAD and did visuals for property development and internal interiors. I did that for 12 years and was given the opportunity to train people in 3ds Max, the software I made the visuals with, alongside making the visuals still too. I did the training in-house but they also sent me all over the country to train others. We then started dabbling in VR towards the end of my time there and real-time rendering. I moved to another company that dealt with electronics distribution and I did the visuals for their audio brand before coming to EPM.
Do you do much training yourself?
I did an online Maya course to expand my knowledge, though 3ds Max was more suited for CAD at the company I was working in at the time.
I try to keep up to date with everything. Every time there is a new release, I go over documentation to see what would be useful for day-to-day. Sometimes they throw in a new feature like Content Aware Fill in Photoshop, utilising AI and so on to speed up cutting out objects or applying filters, it all helps improve the quality of the work we produce and speed it all up.
What are you learning about at the moment?
I'm dabbling in a few bits! I'm using Substance Painter a lot more, and I'm looking at a few things on the horizon to be included in 3ds Max like USD and Material X. These are almost like bridges between the software; there is a lot of software out there but they don't work together that well. These will bridge the gap between them.
I'd like to look more at real-time animation too, looking at Unreal's virtual production tools.
What do you enjoy most about 3D?
It's constantly changing and you're constantly learning new things. The output is always going to be better than what you start with: having that progression of stages that is the sum of its parts. You're always learning, and finding new ways of working, and it always keeps you on your toes! It's a bit of a hobby as well, and it has to be really as it's constantly changing.
What have you been working on as a hobby then?
In my own time, I've recently been looking at photogrammetry which I knew previously from my CAD background. We're looking to do an extension of my house, I thought it would be a good opportunity to scan the back of the property and produce something in 3D to go with the idea I had for the extension. I took loads of photos, got the program to process that, and produced a model to fit within that to see how it would look. I try and find uses for what I do at work in my everyday life! I need to go back to it as I'm still working on the designs, create some plans, submit those and get some quotes. Doing this in 3D will help hugely with costings as you can see what needs to be done, and not just seeing a few lines on paper; you don't necessarily know that the window needs to be this high or this big. It's handy having that CAD background as I have other uses for 3D rather than just for entertainment.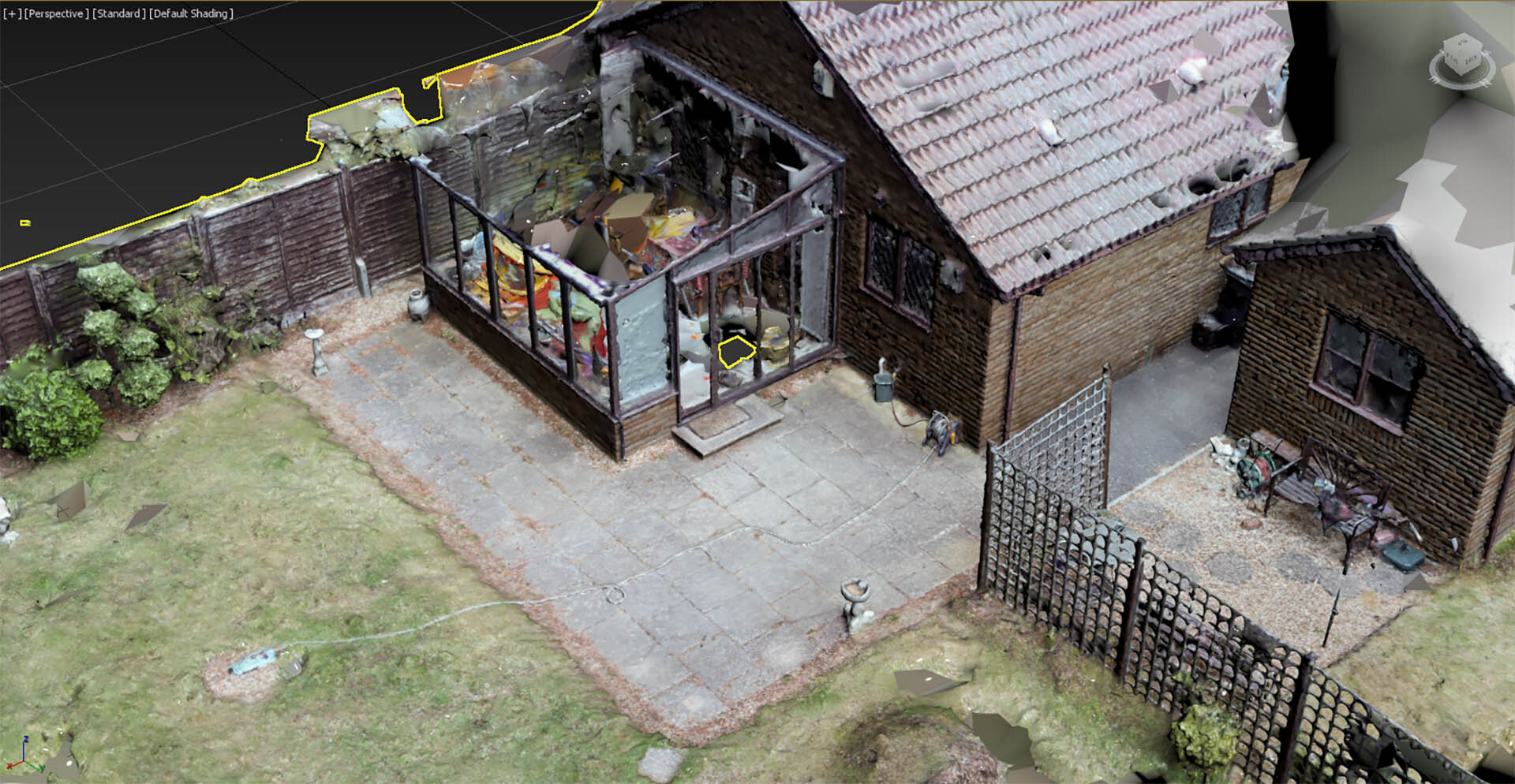 David is currently working on a 3D rendition of his house to better aid the building of an extension.
What are your tools/software of choice?
I definitely like to use 3ds Max, After Effects. I also like to use Substance Painter now, as it just makes assets look better. You can just throw materials on it and it looks great, and it has a huge material library that I extensively use. V-Ray too, though that's for the rendering side of things.
How has it been starting a new job in a pandemic?
It's been funny! When I went for the interview, the pandemic was only just happening and you couldn't shake hands at that point. I went to the interview at EPM's offices and met with people in the office. After the interview, on the first day, I was given a workstation and then headed home. I met Matt, spent an hour here and then went home to set up and do the first job! It's been a strange time as you didn't meet anyone at the time. When I've been needed to work in the office, it's nicer to be able to talk to people in-person and it's a lot more organic. It's been different this year, definitely.
What drew you to EPM?
I was interested in EPM as I wanted to take the opportunity to expand and do more interactive development, and thought this would be a great avenue as this whole industry is heading that way.
How have you found working from home as a 3D artist?
It's been a bit more chilled out working from home. Though at the office there are less distractions so I can concentrate. At home, I have a son who can go to his grandparents normally, but during the lockdown that was very difficult to juggle him and work. He always goes to the keyboard and starts smashing the buttons while I'm working. He doesn't like me ignoring him! That's probably the only downside: the distractions at home.